!-Généré par Avanquest Technology v:8.0. Pour plus d'information, visitez : http://www.avanquest.com -->
X-HYP Hypervisor
The X-HYP is a type 1 embedded hypervisor for the ARM family architecture. It lets you run multiple operating systems at the same time (It is highly optimized for and integrated with Linux) on a single platform while ensuring a hardware-based isolation between them.
The number of Operating Systems can be run with the hypervisor is only limited of RAM size. x-hyp has been designed to communicate via TCP/IP, and also features shared memory as a means of communication and synchronization between operating systems.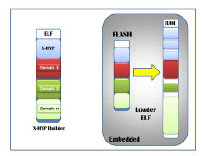 Typical use
Industrial
- Avionics systems (ARINC 653), automated inspection, robotic applications, welding control.
Civilian
- Automotive systems, elevator control, trafic light control.
Medical
- Intensive care monitors, magnetic resonance imaging, remote surgery.
Multimedia
- DRM protection, console games, home theaters, simulators.
Click on picture to enlarge
Product
MNIS Technologies
A realtime hypervisor for embedded systems
X-HYP

We propose XHYP in two versions: one in Open Source software under GPL license and one with more features under commercial license. If you want to know more, please click on the link below.
Watch the video



Download datasheet